UCoustic 9210 Active 12U, 24U, 42U Soundproof Rack Mount Cabinet Enclosure has been independently tested as the most effective quiet rack in the world.
The UCoustic™ 9210 series soundproof rack is made in the UK by USystems, Ltd., an experienced manufacturer in noise reduction across many industries.
This premium range of quiet rack enclosures provides the ultimate combination of noise reduction and air cooled thermal performance. The 9210 range is a viable alternative to a costly dedicated comms room, by allowing the deployment of servers and network equipment directly in the office environment.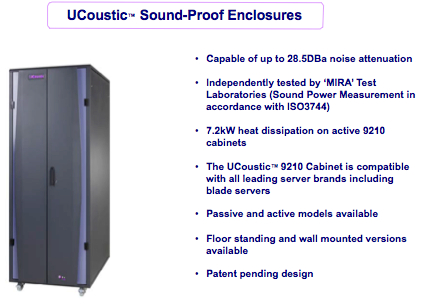 Being thermostatically controlled, the rear fan blowers maintain sufficient airflow throughout the rack cabinet, providing the required level of thermal dissipation, whilst optimising the level of 'ambient' background noise the cabinet itself generates and minimising power expenditure.
Also, the spacious internal dimensions provide ample room for orderly cable routing throughout the 9210 cabinet, with varied cable entry options to the bottom of the enclosure.
The inclusion of a washable dust-filter, promoting extended equipment life-span and reduced maintenance costs, is optional throughout the 9210 range.
Ships fully assembled